About Layton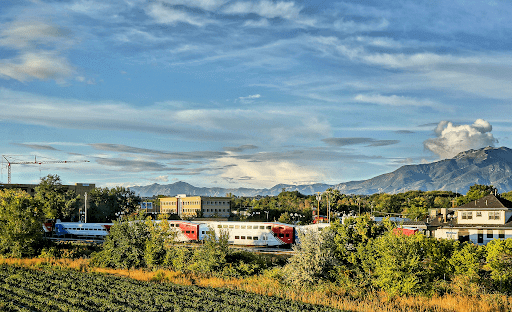 Originally settled in the 1850s, this city was once an offshoot of Kaysville. After a Supreme Court victory, Layton was cleaved from its mother town and allowed to operate independently. Since then, it's grown to contribute approximately $1.34 billion in retail sales to the state. This makes it the seventh-largest market in Utah and the second-largest north of Salt Lake City.
People in Layton benefit from direct access to an international airport and commuter railway system. It's also home to a variety of walking trails, a large conference center, multiple national chains, East Gate Business park, and the Weber State University-Davis Campus. It's also the place where Babe's voice actress and one of the Price Is Right's models was born.
In terms of temperature and climate, this up-and-coming city is relatively temperature with average temperatures ranging between 21 and 90 degrees. In terms of comfort, it ranks at 7.2 out of 10 according to the BestPlaces Comfort Index. This makes it a more comfortable place than many other cities in our service area.
But with 43 inches of snow a year and sometimes scorching summers, there are times when you'll need HVAC services. And, when the discomfort comes, we hope you'll turn to us.
Who We Are
When it comes to Furnace repair in Layton, Teton Mechanical is a great choice.
We've been providing AC and heating services in Layton and the surrounding areas since 2010. This gives us the experience to tackle almost any HVAC or indoor air quality job. When we arrive at your site, we'll thoroughly investigate the problem to better understand your needs. This lessens the likelihood of a mistake and ensures things get fixed correctly the first time--not the third or fourth.
Our HVAC technicians take great pride in a job well done. If your furnace can't keep your home cool or your AC needs replacing, an expert opinion is never more than a call away. They're also experienced with all brands of heating and cooling equipment including Trane, American Standard, Carrier, and Rheem. Reach out to us at (801) 771-7031 and see the difference an HVAC expert that cares can make.
Our Reviews
Our Main Services
Furnace Installation
Nothing lasts forever, and that's true for HVAC equipment as well. Even when kept in tip-top shape, your heating unit only has a lifespan of around 15 years. And, even if it's still going strong, old units are inefficient energy guzzlers. Either way, when you decide to replace it, Teton Mechanical is here for you. We've been replacing heaters for 13 years and know how to get the job done. Contact us at (801) 771-7031 to get a free quote on furnace installation in Layton HVAC Services.
Furnace Repair
Is your 's rattling keeping you up at night? Or, worse yet, has it stopped heating completely? Then, you need to call Teton Mechanical. Our HVAC experts will take a look and fix whatever's plaguing the unit. Bad compressor? Busted control board? Fritzy thermostat? It doesn't matter. No matter the problem, we'll quickly diagnose it and fix your broken heater. Contact us by phone or form to schedule your furnace repair in the Layton HVAC Services area.
Furnace Maintenance
Layton HVAC Services's weather really puts your furnace through the wringer. And, like you, it sometimes needs some TLC. That's why we offer comprehensive furnace maintenance services. Not only will an annual tune-up help your unit last longer and go farther, but it will also help keep your energy bills low. Furthermore, it'll allow you to spot potential failure points in the offseason—not during a 100-degree heat wave. For more information on our HVAC maintenance plans, give us a call at (801) 771-7031.
Our Other Layton-Area HVAC Services
We can also handle a variety of other heating and cooling tasks including:
Furnace repair
Furnace replacement
New Furnace Installation
Furnace Tune-Ups
Heat Pump Repair
Coil and Duct Sanitation
Heat Pump Replacement
Whole House Humidifier Installation
Heat Pump Maintenance
Heating Repair
Water Heater Repair
Home Zoning
Heating Replacement
Heater Repair
Weather Sealing
Thermostat Service
Heater Service
Ductless AC set-up
Heater Replacement
Water Heater Installation
Heater Installation
AC Repair
AC Replacement
Attic Insulation
Filter Replacement
New AC Installation
Get Your Furnace Back Up and Running in No Time
Imagine the relief you'll feel when our HVAC experts take care of your furnace repair or replacement. Call Teton Mechanical to schedule service in the Layton, Utah area. We promise you'll be glad you did.